Gus Gordon Is NOT A Racist


Last week after the producer of the Troy Johnson Show, Gus Gordon, used a term that he didn't know had racial connotations, I immediately called into the show to check him on this. After the call I issued a post and a bulletin meant as a sarcastic paradoy. In case the tongue in cheek nature of my initial posting was missed, I offer the following;
A
t no point in time was there ever any intention to cause slander, or ruination of reputation. The purpose of this writing is to publically apologize to Gus Gordon. While I initially was taken a back by the utterance of the term that will not be repeated in this space, I quickly realized it was used in an innocent manner, and the person saying it truly had no idea of the potential offensiveness of the term. The fact that it was used in referring to Barack Obama, the only black presidential candidate, caused my ears to stand up when I heard it. Upon reviewing all of the facts, I am now convinced this was merely coincidental, with no harmful intent on the part of Gus.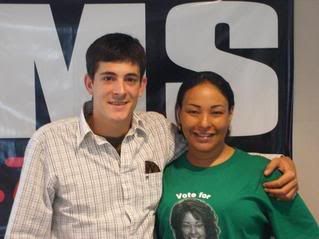 Gus, with the always lovely MD State Delegate Jill Carter


I should point out that I have met and spoken with Gus on numerous occaisons and actually consider him to be a rather pleasant person to be around. We even had dinner together and a few drinks at an appearance for the Ed Norris show once. Gus is a likeable and interesting person, and his presence on the air always seems to add to the entertainment value and listenability of any broadcast.


As a black man with a pretty good prejudice meter, I must say I have never in the least bit sensed or detected any bigotry in this young man. In this day and age of hypersensitivity and over reacting, I realize I may have been guilty of such myself. Truly though, I was only kidding.


If you have never heard the Troy Johnson show, you really should check it out. It's a unique blend of topics and one of the most interesting conversations you'll ever hear on radio. As a seasoned radio veteran, Troy brings his mix of humor, intelligence and ability to unravel complex issues to the airwaves each day. Check them out at
FM Talk 105.7, (this is a clickable link).
You can listen live anywhere. Trust me, it's worth hearing, and even better, calling in and participating. Just be sure to listen carefully and hear someone out before saying something.